Hey try capturing reminders with this spreadsheet-hackable voice-enabled free-to-use call bot:
On your next Zoom, Google Meet, or Microsoft Teams call, go here and paste your meeting URL. (Sign in with Google first.) Then hit: Invite Action Cat
You'll get a live Google Sheets spreadsheet of all your meeting actions. Action Cat listens to your conversation. Say "remind me…" and see it update.
The spreadsheet link appears once you admit the bot to your call. (Copy and paste the link into chat so others can see. The doc is public by default. Lock it down if you'd prefer they request access.) The full transcript is updated with minimal lag on the second tab, timestamped and broken down by speaker. Transcription is magically good.
🚧 Use Chrome on a desktop for now. Safari needs pop-up windows set to "Allow" for sign-in to work, and this isn't mobile friendly yet. 🚧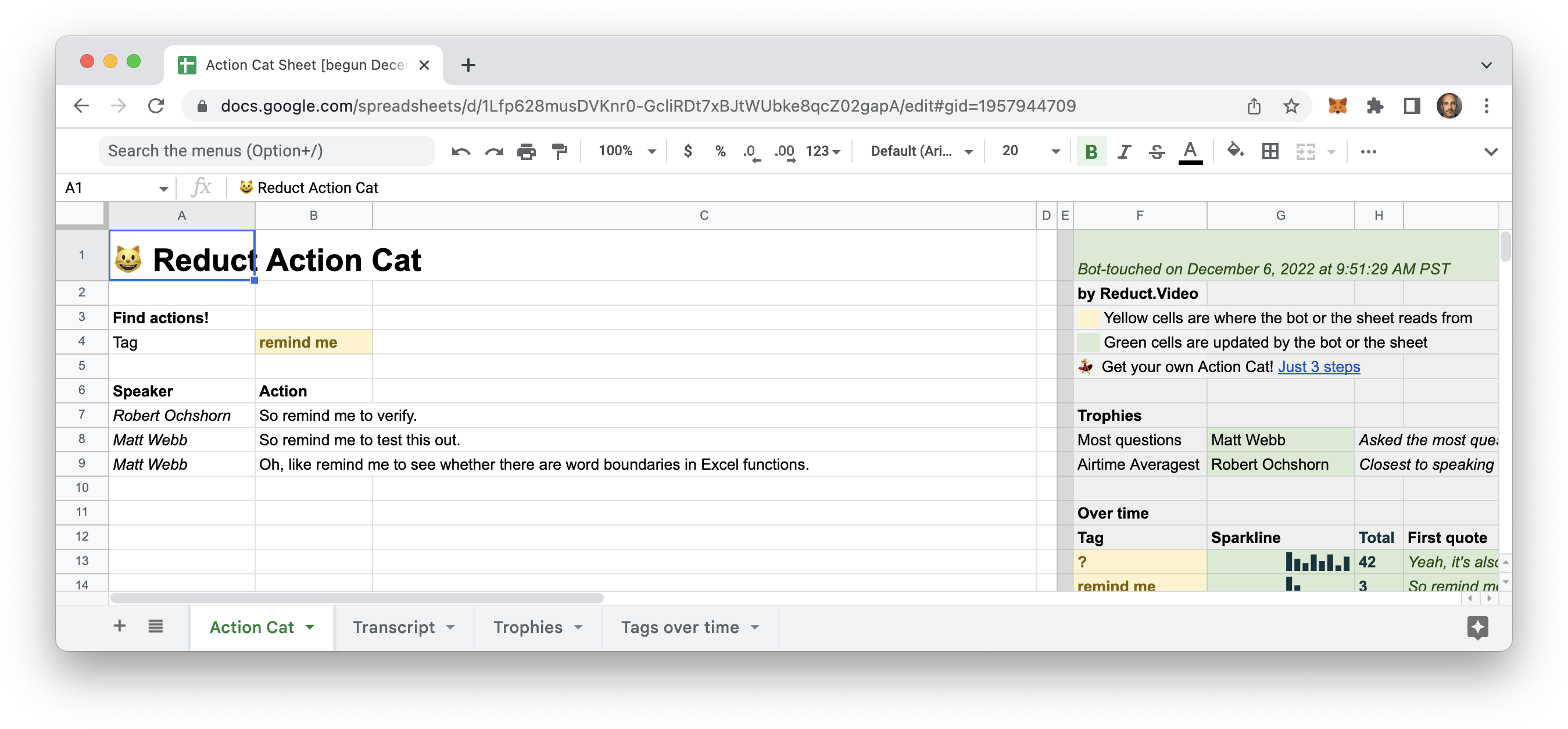 You can hack the way the bot works live on the call. Change the "remind me" phrase to pick up actions using a different keyword. Edit the formulas.
e.g. at the end of your call, search for "?" on the whole transcript to make sure all your questions have been answered. Check who has spoken most. Or least. Or =ANYTHING() else. It's just a spreadsheet. Edit the wiring of the whole thing. Build a smart speaker for virtual meetings and call out to GPT-3, whatever. The document is yours. Tell us how you use it.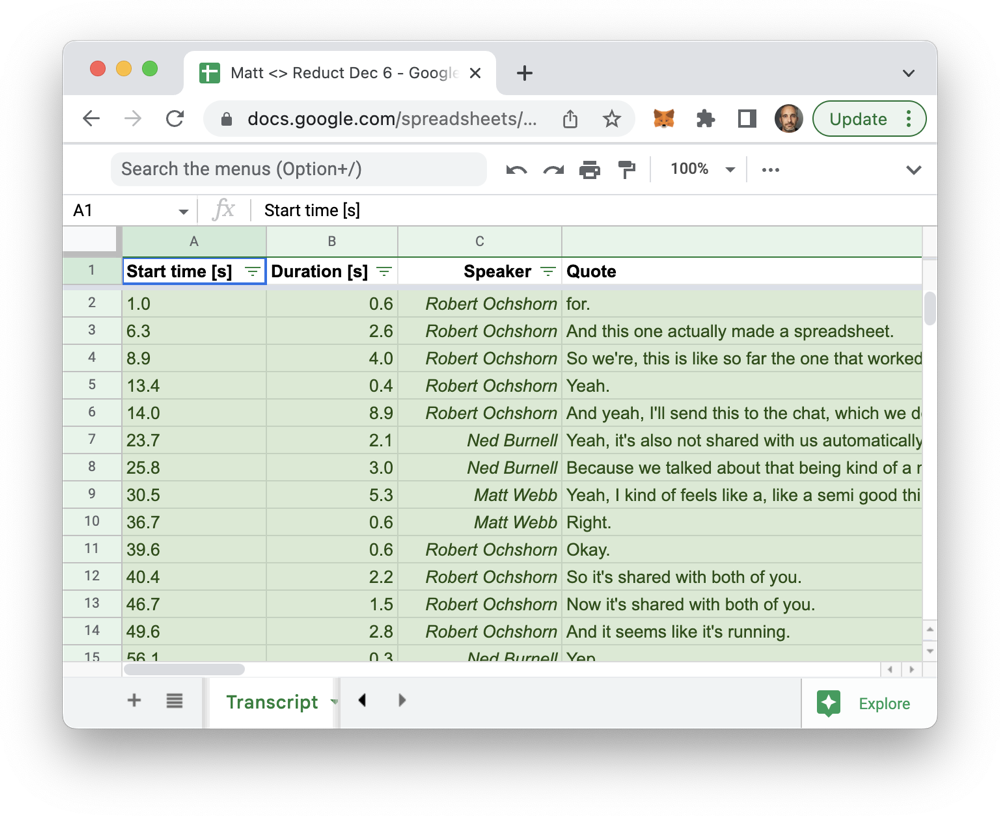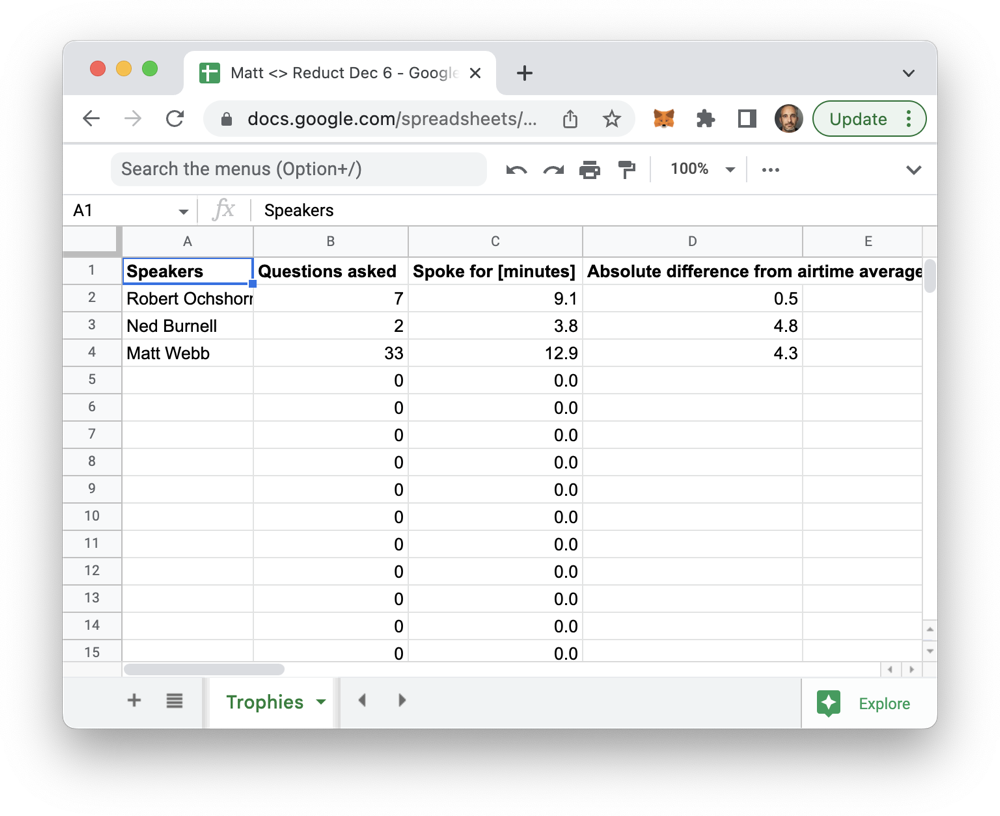 Reduct is a collaborative, transcription-based video platform. You can upload or live capture more videos, tag transcripts, and make video supercuts. Start your free trial to get all the functionality.